Welcome back!!! Tomorrow morning all 7-12 students report to the auditorium at 8:15. Locker assignments will be posted in the MP. Everyone will get computers and schedules during the assembly at 8:15. See you tomorrow!!

🖤💛Want to be a part of the FM DANCE TEAM?!?!?! 🖤💛 We are looking for anyone in grades 9-12 who want to have fun! There will be a quick informational meeting on Friday right after school in Mrs. Crouch's room! Lots of plans and details to share so don't miss out!


Hello Junior and Senior parents and students! If you have been reading the emails we have sent, and or Facebook posts, you are already aware that your student is required to complete a certain number of volleyball concession stand shifts to be able to attend post prom, at no charge. They will also be required to participate in three other fundraisers throughout the year (these three fundraisers do not include softball/baseball or volleyball concessions, those were separate requirements). This email includes information not only about the volleyball concession requirements but also about another fundraiser that will count towards one of those three fundraisers. So please read it carefully and if you have any questions please reach out to the Special Events Committee. Volleyball Concessions: Juniors and Seniors will be required to work TWO shifts during a home volleyball game. If they are not able to work any shifts they they are responsible for finding someone who can work for them, either a parent, grandparent, friend, sibling (at least junior high age), etc. Sign ups are ready and you may go to
https://signup.com/go/vJMoPeJ
to find those dates and times. Reminder, if these shifts are not filled by Juniors and Seniors (or their designee) we open them to kids going to Washington DC and we pay them for their shifts, which means that is money that is being taken away from what could be spent on Post Prom. Tabor Hare Scramble: Again, this is one of the "other" three fundraisers. Juniors and Seniors will have the chance to participate in other fundraisers as well so there is no requirement that they have to do this one, it is just one of their options to reach their requirement of THREE. Sign ups for this are also online, the Hare Scramble is Sept 8th, so there are several shifts on the 8th, but notice that there is one shift on the 7th to help take stuff out to the location and unload and set up. Again, if your student can't work but wants this to be one of their fundraisers they can have a parent, friend, etc. work for them. To sign up for a shift for this fundraiser you may go to
https://signup.com/go/vJMoPeJ
You will notice that there are not enough slots for every Junior and Senior to sign up for this fundraiser, so first come first serve. Also, note that while these sign ups are on the same website they are different links, so make sure you are signing up for the correct fundraiser. Again, if you have any questions please reach out to the Special Events Committee.

F-M PTO will be busy during Open House - stop by to see us in the Quiet Room! Root Beer Floats - F-M HOSA will be serving root beer float (supplies provided by F-M PTO) from 6:00pm - 7:30pm or while supplies last in the Quiet Room (near the cooler). Father/Daughter & Mother/Son Dance pictures - Stop by and pick up your pictures from the dances - Free Will Donation in the Quiet Room. PTO Member Sign-up - If you are interested in joining PTO or would like to help with any events, stop by the picture table and leave your information. We meet once a month - next meeting is Thursday, September 5th at 6:00pm. School Supplies - If you pre-ordered school supplies, please pick these up by 7:15pm in the back of the Quiet Room (North end). Welcome back to school and see you on Wednesday night!!

Registration forms will remain open until 8:00 PM Wednesday, August 14th

2019-2020 School Year Fees $45 - Elementary Material Fees $55 - JH/HS Material Fees $35 - Technology Fee $140 Maximum per family

Fremont-Mills will be holding our open house on Wednesday, August 21st from 6:00 - 7:30 PM. Elementary students - feel free to bring all of your school supplies during this time. 7th Grade Orientation will take place at 7:00 in the auditorium.


Strength and conditioning picks back up tomorrow. HS boys at 6:30, HS girls at 7:30, JH at 8:30. Note time change for JH. These times will run through the end of the summer. We will have an extra session at 7:30 Friday morning for anybody wanting to put some extra work in.

Baseball's season comes to a close after a 0-8 loss to AHSTW

Varsity Softball's season comes to an end after a 2-12 loss to Lenox. Great season ladies!

Baseball falls to Nodaway Valley 4-12

Varsity softball advances in regional play with a 4-3 victory over Griswold! They will play @ Lenox Wednesday night at 7:00

Varsity BB falls in 5 innings to Shenandoah 1-12

BB today has been postponed due to rain. Rescheduled for next Thursday.

Softball splits the varsity doubleheader with Stanton. First game lost 7-9. Second game won 9-0. Victory in the second game gives the Knights a share of the Corner Conference regular season title. Congratulations to Coach Fichter and the girls!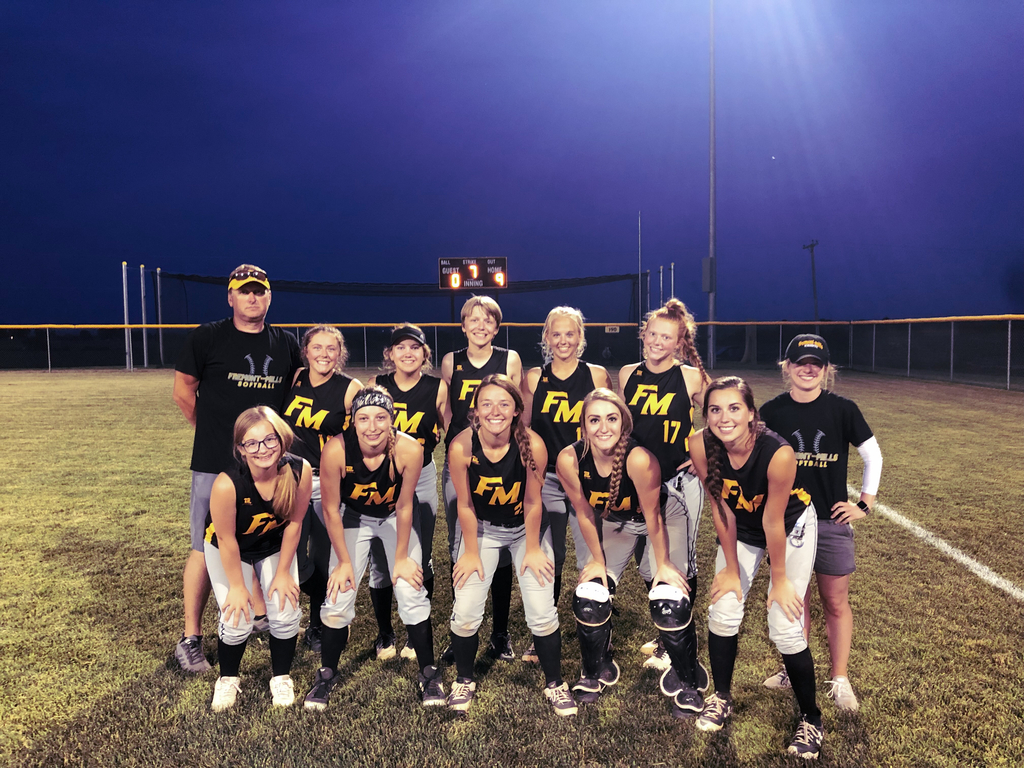 Varsity softball wins on the road over East Mills 7-1!

Fremont-Mills is your 2019 Corner Conference Baseball Tournament champions! They come back for the second night in a row with a 7-5 victory over Stanton!

Softball finishes 2nd in the Corner Conference Tournament after falling to Sidney 6-11