Next week junior high volleyball schedule. Open gym Monday, Aug 22nd from 530-7 in south gym, Tuesday from 1:15-2:30 and Wednesday from 3:30-5:00. Once school starts practice will be 8th hour.

Reminder that FM's Open House is tonight at 5:00pm. All district families and community members are welcome! Student Council members will be available to help direct families, load lockers, and welcome students to FM!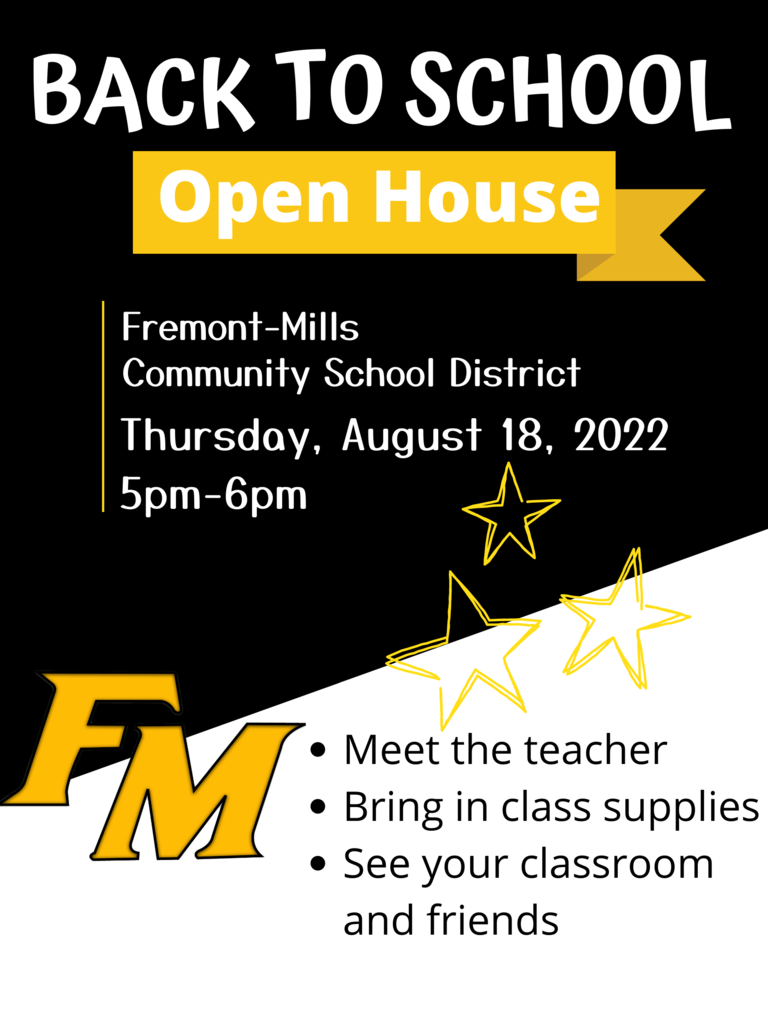 Jamy Bechler Presentation, August 24 @ 7:00pm See attached for more details and please view a promo youtube video here:
https://youtu.be/vvT_3NnWbbM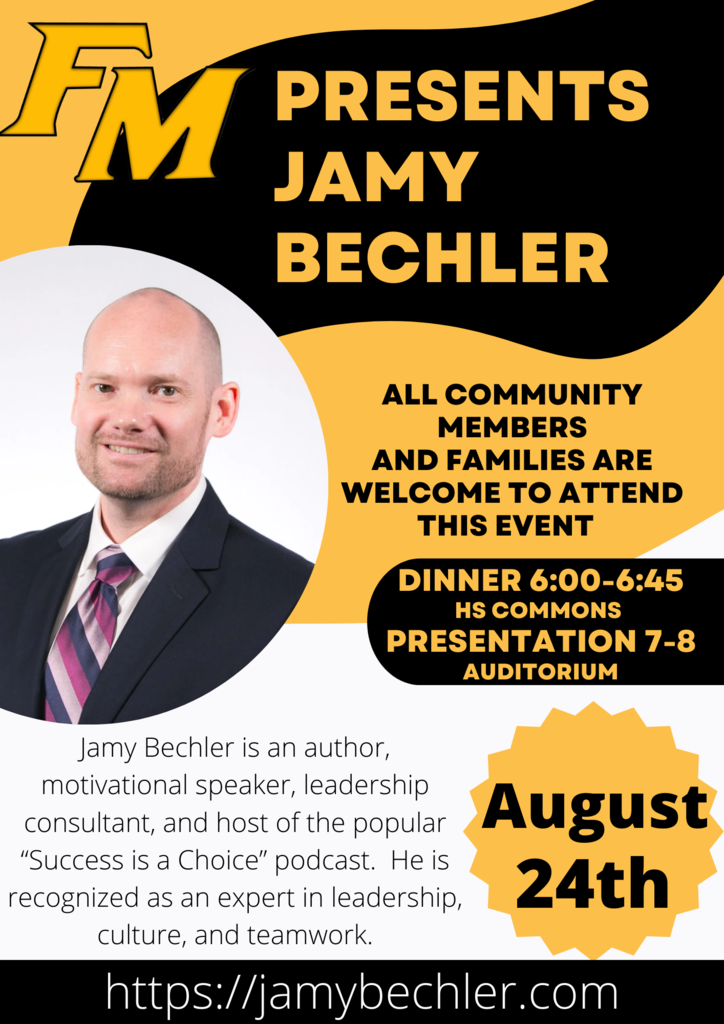 Cowgirl Queen will be on Iowa Public Television tonight at 9 p.m. Tune in to see Lillian Howe compete!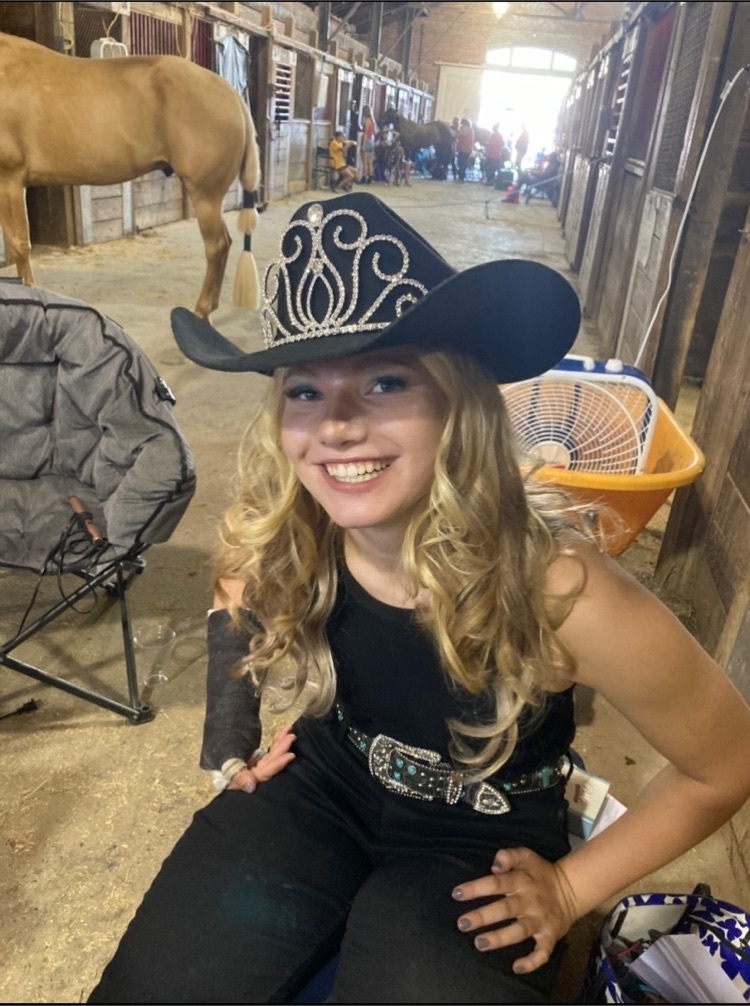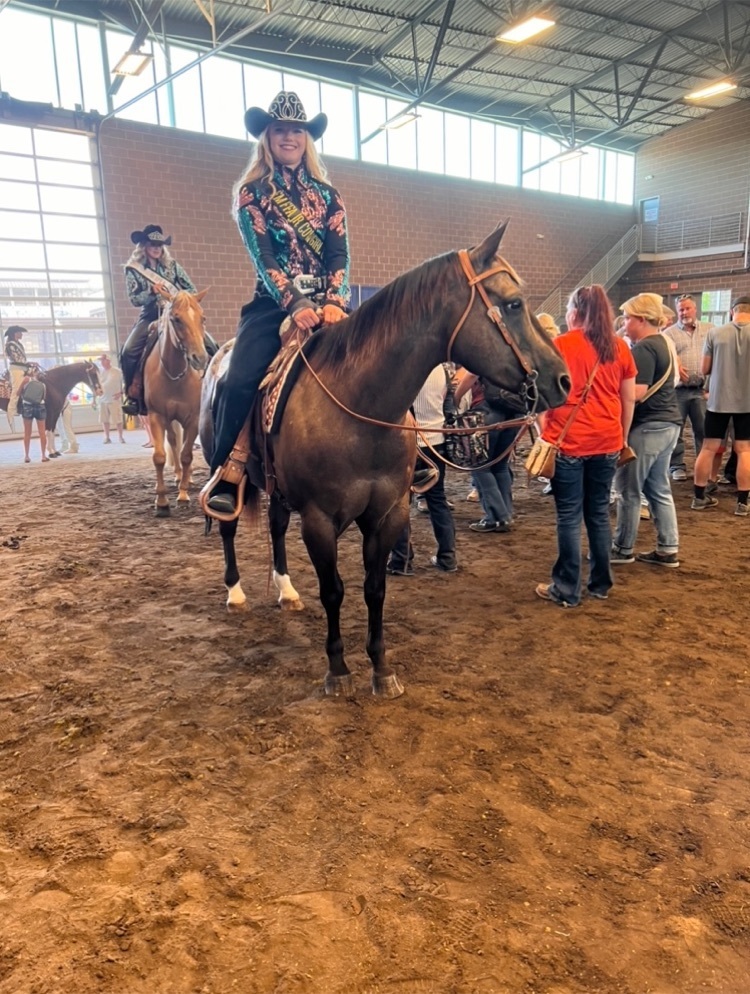 Fremont Mills Booster Club apparel store is now open. Get your FM t-shirts, hoodies, shorts, joggers, flannel shirts, backpacks, hats, stocking caps and blankets! Store closes Monday, September 5th.
HTTPS://fmgenericspiritwear.itemorder.com
Information regarding high school football scrimmage Friday at Boyer Valley. They will be accepting sports drinks for admission. Drinks will be handed out to both teams.
7th grade students and parents are invited to a short orientation at 5:30pm in the auditorium during Back-to-School night.
Junior High Sports reminders this week… Football camp M, T, W 6-7PM Volleyball camp M, T 6-730PM.
🚨Details for week 2 of HS sports🚨 Weight room: NO JH WEIGHTS Mon-Tues: HS boys: @7 HS girls: @8 Thurs-Fri HS Boys 6:45-7:30 am HS Girls 7:15-8 am 🏈 HS football: -Mon-Wed: 3:30-6 pm -Thurs: 6-7:30 pm -Fri: Scrimmage vs Boyer Valley @ Boyer Valley @6 💃🏻 HS dance: 8-10 am 🏃🏼‍♂️ HS/JH cross country: Monday, Tuesday, Thursday @7am 🏐 HS volleyball: -Mon-Wed: 10:15-12:15 am *Tuesday: scrimmage vs Riverside @ Riverside 5-7* -Thurs: 4-6:30 pm -Fri: 3:30-5:30 pm
🚨Reminder! 🖤💛F-M Fall Activity Banners🖤💛 If you are interested in purchasing a Fall Activity banner for football/volleyball/cross country/cheer/dance, banner photos will be taken during the date/times listed below: Friday, August 12th at 1:00pm Tuesday, August 16th at 7:00pm Thursday, August 18th at 5:00pm Photos will be taken in the Lied commons area. Cost is $30/banner and payment can be made via cash/check/PayPal (
fmpostprom@gmail.com
). Please bring uniform/jersey and payment. Forms will be available to complete during photo session.
Reminder! There will be a junior high volleyball camp this Monday and Tuesday from 6-730 in the Lied gym.
There will be NO weightlifting tomorrow (Thursday).
Varsity schedules for fall! 🏈🏐🏃🏼‍♂️ All other schedules can be found on cornerconference.org Go Knights!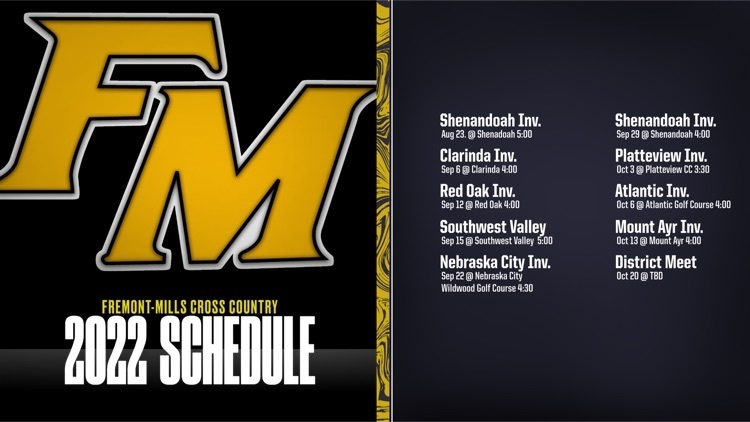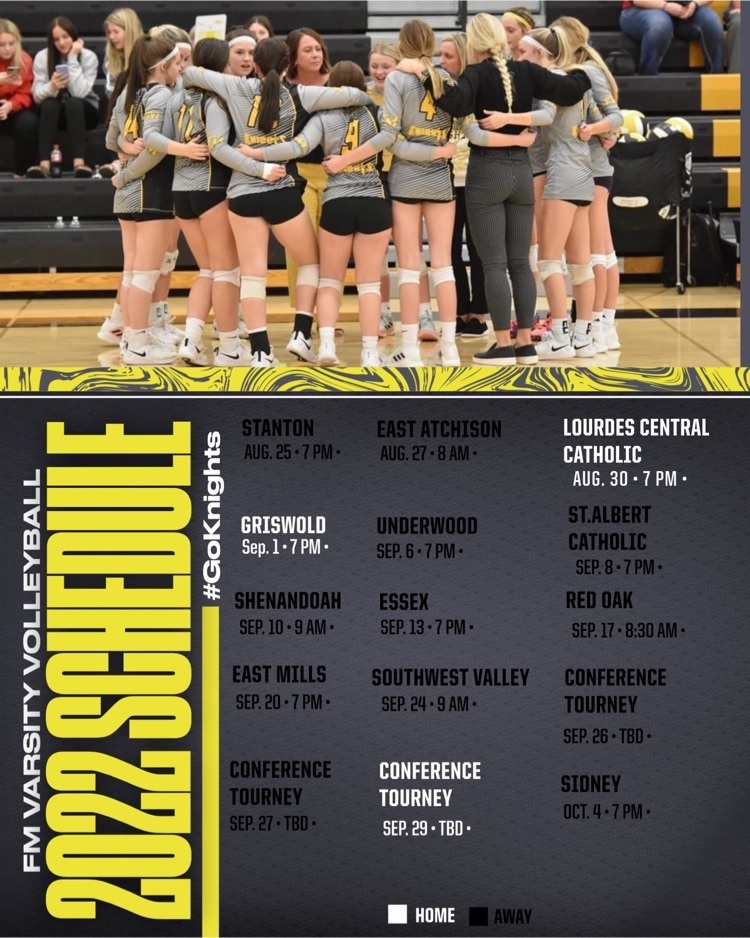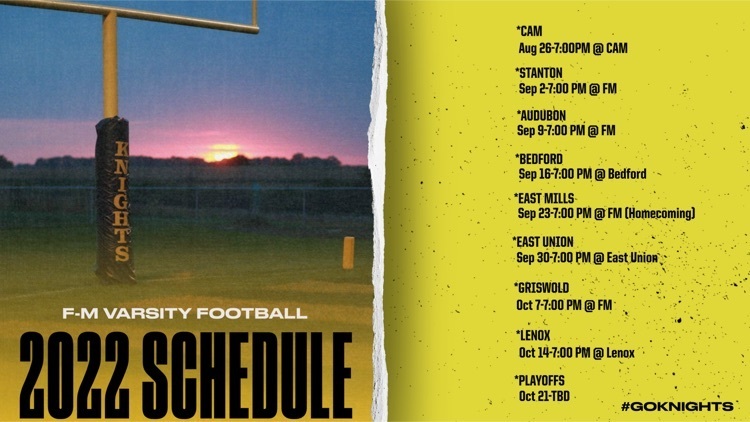 The FM students, parents, staff, and community are invited to join together on August 24 for a presentation from motivational speaker Jamy Bechler.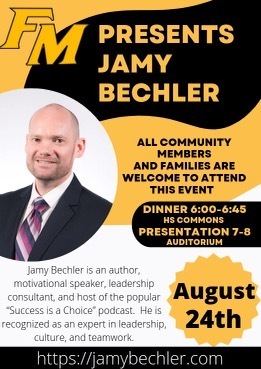 🚨Important info for HS athletes 🚨 High School athletes must have their concussion & physical forms turned in to coaches before the first day of practice tomorrow. Weight room: Monday-Tuesday, Thursday-Friday 7-8 HS boys 8-9 HS girls 9-10 JH 🏈 HS football practice this week 3:30-6 💃🏻 HS dance practice 8-10 🏃🏼‍♂️ HS & JH cross country Monday, Tuesday, & Thursday @ 7am 🏐 HS volleyball practice Monday: 3-5 Tuesday: 10-12 Wednesday: 7-9pm Thursday: 3-5 Friday: 10-12
Reminder: Students signed up for IWCC classes will have an orientation tomorrow, August 8th at 1:00.
There will be a junior high volleyball camp for any junior high athletes that wish to participate in volleyball this year on Monday, Aug 15th and Tuesday, Aug 16th from 6-730 in the Lied gym.
Open House/Fall Kickoff Info!