Senior Year Information Night = September 25th, 7:15 PM in the HS Auditorium Parents/guardians AND senior students, please, attend this informational meeting on what to expect during the senior year of a student. Topics covered: * FAFSA completion * Postsecondary planning * College visits * Job Shadows * Financial Aid planning * Review of student transcripts * Q & A time

Fremont-Mills High School Student Council is searching for businesses interested in participating in our Homecoming parade in Tabor, IA on Friday, September 27th, at 1:30 pm. If interested, please contact Alex Paulus at
apaulus@fmtabor.org

Knights fall in the 5th set 15-7

We're going to a 5th set as Lourdes takes the 4th 20-25

FM drops the third set 8-25

FM battles back from an early deficit in the 2nd set for a 25-23 victory to go up 2-0!

Varsity volleyball takes the first set over Lourdes Central Catholic 25-15

JV volleyball gets the win over Lourdes Central Catholic 2-1!

Varsity football starts the season off with a big 50-2 victory over Exira/EH-K!

FM takes the match winning set 4 25-21.

FM wins set 3 25-21.

Knights take set 2 25-22.

Set 1 goes to the Vikqueens 19-25.

Fremont-Mills has a 90-minute late start EVERY MONDAY throughout the year. Buses run approximately 90 minutes later than the rest of the week. For new families, I wanted to make sure you knew this. For returning families, just sending a quick reminder to you. Doors open on Mondays at 9:30am and breakfast is not served on Mondays. Looking forward to our first full week!

Fremont-Mills Varsity Marching Band under the direction of Susan Saker participating in the Randolph Fun Days Parade!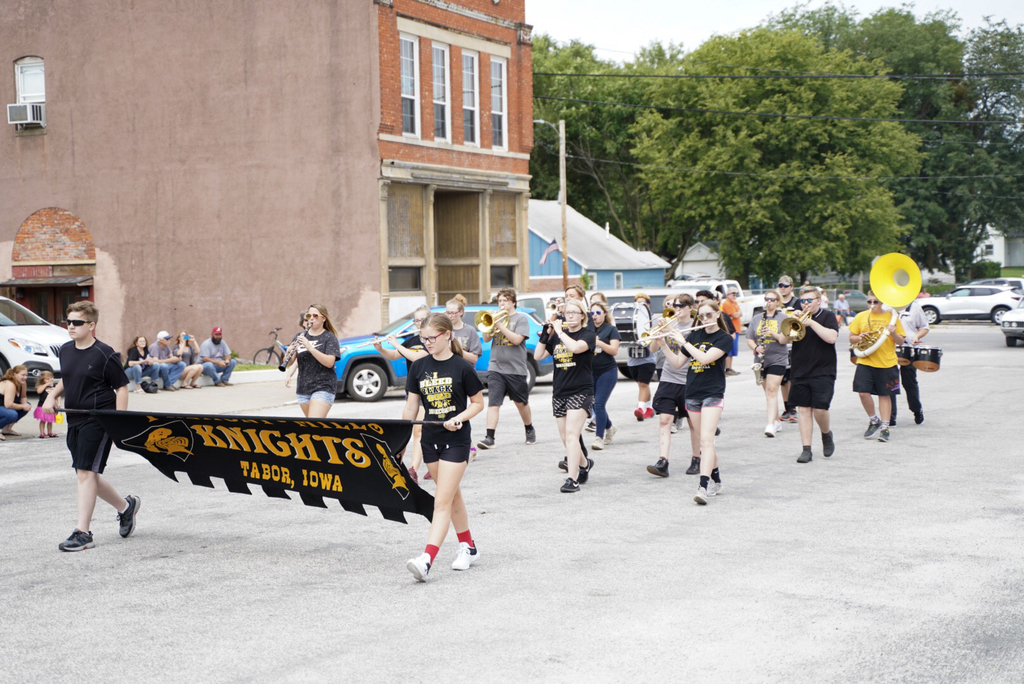 7-12 Students and Parents - If you are bringing lunch for your student, you must check in at the HS office. Thank you!

Update on Student Pickup and Drop Off. All student pick up and drop off will take place in front of the HS entrance. No students should be picked up on the South side of the school or where buses load and unload. Thank you

Welcome back!!! Tomorrow morning all 7-12 students report to the auditorium at 8:15. Locker assignments will be posted in the MP. Everyone will get computers and schedules during the assembly at 8:15. See you tomorrow!!

🖤💛Want to be a part of the FM DANCE TEAM?!?!?! 🖤💛 We are looking for anyone in grades 9-12 who want to have fun! There will be a quick informational meeting on Friday right after school in Mrs. Crouch's room! Lots of plans and details to share so don't miss out!